What we treat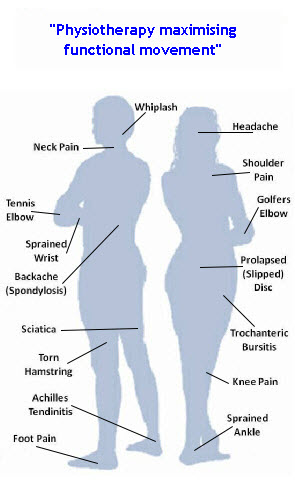 Back conditions and sciatica
Neck conditions and trapped nerves
Whiplash, headaches & migraines
Muscle strains and joint problems
Sports Injuries
Arthritis and wear and tear
Following surgery e.g. 'Cartilage' operation or joint replacement
Repetitive strain injuries (RSI)
Compensation claim injuries
We also treat many other conditions so please ask to speak to one of our physiotherapists for more information. You can call us on 01205 358749.
See our patient information leaflets
We may use one or more of the following treatments:
Manipulation. This may be gentle movement to stretch and loosen structures to reduce pain and improve function. Sometimes more vigorous techniques are needed to restore normal movement depending upon the nature of the condition and the individual patient.
Soft tissue massage. To reduce scar tissue, relieve muscle spasm and accelerate the healing process.
Electrotherapy. A variety of techniques including ultrasound, interferential, TNS and curapuls are used to relieve pain, reduce inflammation and enhance the healing process.
Extra Corporeal Shockwave Therapy ( ESWT). Shockwave has been shown to be effective in the treatment of localised musculoskeletal pathologies such as epicondylitis ( tennis elbow ), plantar fasciitis, rotator cuff disorders, achilles tendonitis, trigger points, and a variety of chronic tendinopathies. The Shockwave machine is non-invasive and works by creating and focusing high energy sound waves onto the injury and affected area.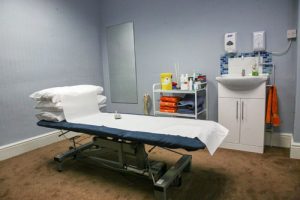 Acupuncture may be used to reduce muscle spasm and for pain relief.
Kinesio Taping. A dynamic non restrictive taping method which facilitates the body's own natural healing process.
Exercises. Personal programs designed by your physiotherapist to re-educate and restore weak or deficient muscles.
Prevention and Advice. Looking at the cause of the injury we advise on ways of preventing
re-occurrence of the condition with the use of postural strengthening exercises and ergonomic
assessments.
For more information, please contact us