Making a physiotherapy appointment
Treatment at a time to suit you – making your appointment
Please call us on 01205 358749.
Assessment

At your first visit you will be asked specific questions followed by a physical examination to allow us to make a diagnosis. The findings of the examination will be clearly explained to you and the proposed treatment plan will be discussed with you for your agreement. This assessment will last for approximately 45 minutes.
For ease of assessment you will be asked to dress appropriately. For example, with shoulder conditions you may need to undress your top half, or you might prefer to wear a 'strappy top'. Low back problems may require you to undress to your underwear or you may wish to bring a pair of shorts.
Follow up sessions

Your subsequent visits for treatment will last for approximately 30 minutes.
Accompanying patients. All patients are welcome to be chaperoned. This may be particularly useful in helping to explain to the therapist the history of the problem and for the remembering of advice and exercises etc.
Accompanying children. We ask that a parent or other suitable adult accompanies all children under the age of 16.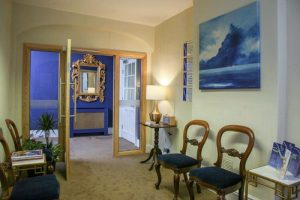 Appointment times to suit you
Monday 8am – 6pm.
Tuesday 8am – 6pm.
Wednesday 8am – 6pm.
Thursday 8am – 6pm.
Friday 8am – 6pm.
Saturday by appointment.
Please call us on 01205 358749 to make an appointment.
Enquiry page